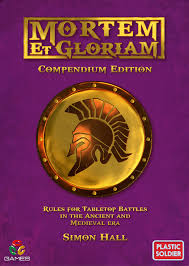 Episode 8 sees me going a long way south of Sheffield, in fact we've gone as far as Cape Town in South Africa.
Simon Hall is a self confessed Big Gamer who also has had a very successful time writing rules, initially as one of the team on Fields of Glory before more recently publishing his own set of Ancient / Medieval rules Mortem at Gloriam.
Over the course of the show we cover many topics, Simon admits to owning over 60,000 figures and claims not to me mostly a collector on the Venn Diagram of Wargaming. We discuss Wargames skills in business (something I touched on in the last episode with Nick Skinner).
The Big Game section covers some great huge games from my guests past, a WW2 Normandy landing on a 30ft square Judo Mat and a huge WW2 Eastern Front game where the Russian and German Commanders were locked in a room with only a phone for communication !
For a lad from "that place over the hill" (Simon was born in Burnley) he does pretty well on the quiz and despite his protestations that the final mark should be out of 19, he got 75% from 20.
For the Big Topic I talk to Simon about his Mortem et Gloriam rule set, although they appear Competition Based as many Ancient style rules do, I chat with Simon about how they were developed for Big Games and go through a couple of the most interesting mechanisms in the set. If I sound like a fan boy its because I like the rules. Dont worry as a Yarkshireman if I didn't I'd tell thee !
Mortem et Gloriam is avaliable from the site below and other major gaming retailers,
https://www.theplasticsoldiercompany.co.uk/shop/rulesets/mortem-et-gloriam-rules/
The next episode should see me go on the Road for a trip to the Big Game Figure Manufacturing Legend that is Elite Miniatures.
Sithee
Ken
The Yarkshire Gamer