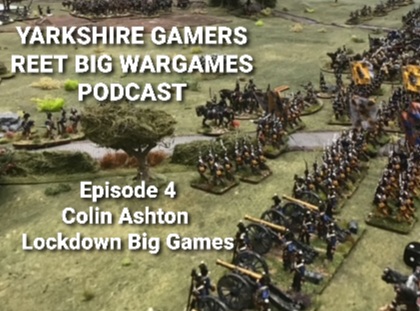 In this episode I talk with another Big Game proponent, Colin Ashton. Before the interview begins I talk about my plans for the future of the Podcast.
Colin runs the Carryings on up the Dale website and owns a number of huge collections of figures in 28mm. 
In what is now a regular format, I talk to Colin about his background in wargaming before discussing The Big Game and his experience with them.
Its then onto the Yarkshire Gamer quiz, our guest has links to that lot over the hill so he was always going to fall short of a full house !
Its then onto the topic as we discuss how Colin has kept gaming, in his home gaming room via the internet during lockdown. He talks about how these games have been run and more impressively how he has kept them Big. We discuss how remote gaming is likely to stay with us in some fashion once freedom returns.
The winner of Dr Chris Browns Arnhem Book from the previous episode is B5PUP so if that's you get in touch via the messages below.
Colins Website can be accessed via the link below, pop along its well worth a look.
https://www.carryingsonupthedale.com/
I'll Sithee in a couple of weeks for Episode 5.
Regards Ken
The Yarkshire Gamer