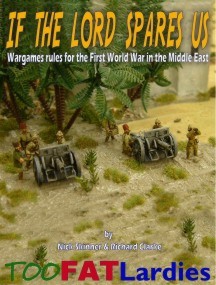 After having a host of newcomers on the Podcast, it was time for a member of the gaming Glitterati and who better than todays guest.
The John Lennon to Rich Clarkes Paul McCartney, the slayer of Black Puddings and Judger of Breakfasts, the one and only Nick Skinner.
In between talking about Cricket and Avocados we did manage to occasionally discuss wargaming.
Nick does a great effort at the 4 minute challenge, we chat about his entry into rule writing and his thoughts on the big game.
After a dip into the wacky world of the Yarkshire Gamer Quiz we discuss the ruleset for WW1 in the East (Gallipoli, Mesopotamia and Palestine) in which we both have a family interest.
We end up chatting about Big Game rule writing before Nick corners me on my one Skirmish game, The Sweeney.
A bit longer than usual but I hope you enjoy listening to it as much as I enjoyed putting it together.
If the Lord Spares Us can be bought direct from TooFatLardies on the link below,
https://toofatlardies.co.uk/product/if-the-lord-spares-us/
Thanks for listening, if you haven't already give the Podcast a follow so you don't miss and episode, see you in 2 weeks for another Episode.
Regards Ken
The Yarkshire Gamer