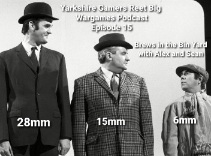 I want you to think of this as more like a Magazine Episode, obviously not Hello Magazine, more like Hey Up, Love.
I've gathered together my own little Wargaming "Supergroup" and managed to persuade the Giant of the Utubes Alex "Storm of Steel" Sotheran and the Podcast Legend Sean "God's Own Scale" Clark to appear together in this episode.
We chatted for that long (nearly 4 hours) that I have had to split the recording into two parts, the first half would be the introduction section in the normal episodes.
PARENTAL GUIDANCE - This Podcast contains at least 4 naughty words.
Back in the day a Parental Guidance sticker would get you another million album sales, here's hoping.
Alex produces excellent Battle Reports, Reviews and Painting Tutorials on his wonderful channel Storm of Steel
(3) Storm of Steel Wargaming - YouTube
Whilst my other guest hosts the brilliant God's Own Scale Podcast, broadcasting small scale loveliness to the world on a regular basis
God's Own Scale Podcast (podbean.com)
Pop along and enjoy their content (obviously after you have listened to this first !)
Back in two weeks with the second half of this recording.
Sithee
Regards Ken
The Yarkshire Gamer